Pandora: The World of Avatar no Disney's Animal Kingdom traz uma nova terra, mística e repleta de fascinantes experiências, com montanhas flutuantes e uma floresta bioluminescente. A área, inspirada no grande sucesso do cinema, será aberta ao público em 27 de maio, no Walt Disney World Resort.
Esta é a maior expansão da história do parque, inaugurado em 1998, cuja temática gira em torno dos animais e dos continentes asiático e africano. Pandora tem área de cerca de 48 mil m2 e destaca os valores da natureza, a conservação do meio ambiente e a transformação por meio da aventura, como no premiado filme do diretor James Cameron, com o objetivo de tocar as pessoas e fazer com que se conscientizem em relação a questões de suas comunidades.
A beleza dramática da nova área durante o dia se transformará completamente à noite. "Queremos tudo o mais realista possível", explica o executivo de criação da Walt Disney Imagineering, Joe Rohde. "No filme, Pandora é cenário para os personagens cuja história acompanhamos. Aqui, os visitantes são os personagens principais envolvidos em uma experiência extremamente vívida e autêntica".
Eu tive o grande prazer de estar lá antes da inauguração e confesso que fiquei maravilhada com tudo, a Disney arrasou nos detalhes, em TODOS os detalhes, Pandora – O Mundo de Avatar apresenta duas incríveis atrações:
Avatar Flight of Passage é uma aventura 3D que transporta os visitantes para um colorido cenário do mundo de Pandora. Montados em um mítico Banshee voador, os visitantes sobrevoam a terra em um voo hi-tech e de sensações espetaculares pelas florestas, montanhas flutuantes e oceanos majestosos. E tenho uma coisa a dizer, esse foi o melhor simulador 3D que eu já fui na vida, os efeitos e a conexão com o "Banshee" são de babar, tudo muito realista, para vocês terem uma ideia, dá pra sentir a respiração do Banshee durante o voo todo, é espetacular. O passeio no simulador de voo dura cerca de quatro minutos, está disponível para agendamento do FastPass+ e o limite de altura mínima para entrar é de 112cm.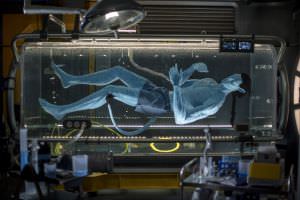 DICA importante, marquem o Fastpass sim, mas se possível, façam a atração de novo pegando a fila normal, só na fila normal é que passamos por esse laboratório.
Na'vi River Journey é uma ótima opção para todos da família. Em barcos de oito lugares, os visitantes podem navegar em um misterioso rio sagrado que corre pela floresta bioluminescente. A expedição termina com um encontro inesquecível com a xamã Na'vi, que tem uma profunda conexão com a força viva do mundo de Pandora. Muito lindo também, e a sensação é que estamos de verdade no meio da floresta.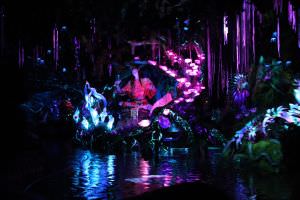 Lá também está o restaurante Satu'li Canteen, que é totalmente inspirado na tribo Na´vi e em sua cultura, da decoração ao menu, que serve uma culinária de ingredientes frescos, colorida e criativa, baseada no uso de grãos, legumes e proteínas saudáveis – e tem como atrativo um grill no salão. Os visitantes podem ainda elaborar seus pratos para torná-los personalizados e ainda mais leves. O Satu'li Canteen é o primeiro restaurante Disney a oferecer o sistema "Mobile Order", uma nova opção conveniente para fazer seus pedidos e efetuar o pagamento usando o aplicativo My Disney Experience.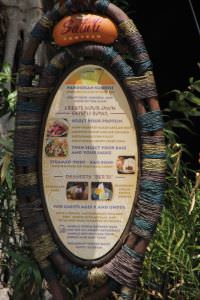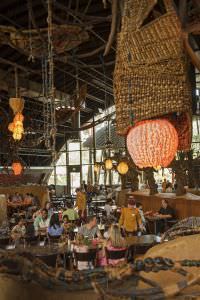 Logo ao lado do restaurante, os visitantes podem conhecer o bar Pongu Pongu, que tem um cardápio com bebidas refrescantes além de cervejas indígenas. Pongu Pongu significa "festa festa" e o quiosque, como conta a história, foi construído por um ser humano que fez amizade com a tribo Na'vi e pensou num lugar para se reunir e socializar.
A nova área conta também com uma super lojinha que tem vários itens lindos do Avatar. E na loja, duas coisas muito legais, é possível fazer um boneco de Avatar com as características do dono e é possível "adotar" um Banshee (boneco eletrônico) que o pessoal carrega no ombro como se fosse um animal de estimação!!
Outro lugar bem legal em Pandora é o Colors of Mo'ara, aonde os visitantes podem fazer uma pintura no rosto e ficar super no clima de Avatar. 🙂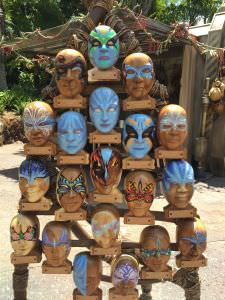 Para concluir, o mundo de Avatar ficou sensacional, toda a área, todos os detalhes são perfeitos, na minha opinião, Pandora: The World of Avatar reúne o que há de melhor no Animal Kingdom,  cada cantinho de Pandora é perfeito para fotos, por isso, use e abuse do Photopass porque as fotos ficam maravilhosas.
E volto a falar, não percam de jeito nenhum a atração Avatar Flight of Passage, garanto, é uma experiência incrível!! 🙂
Finalizo esse post agradecendo a Walt Disney World por serem tão perfeitos em tudo que fazem e por nos proporcionar experiências incríveis nos parques!! 🙂