Oi Pessoal, tudo bem?? Nesse sábado agora (12 de março) fomos convidados a passar o dia no Sea World.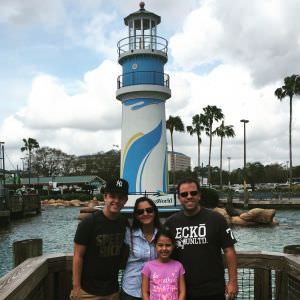 Aproveitamos o parque e conferimos o primeiro dia do evento "Praise Wave", falei sobre esse evento nesse post!
O Praise Wave é um evento que conta com shows de bandas evangélicas, e que acontece somente aos sábados, no mês de abril, nesse primeiro dia do evento quem se apresentou foi a banda MercyMe!
Fazia um tempinho que não íamos ao Sea World e apenas constatei o que já imaginava, "Ele continua lindo" 🙂
Chegamos por volta de 10:00hs e saímos as 19:00hs, horário que fechou o parque!!:) Foi um dia de "turista", aquele corre corre, o parque estava vazio e queríamos aproveitar ao máximo todas as atrações!!
Claro que nessa visita, priorizamos as novidades, vou contar aqui o que mudou e o quais foram as atrações que nós fomos!! Quem me segue no snapchat (nosso snap é omundodisney) pôde curtir o parque em tempo real com nós!!
Começamos o parque "encarando" a monta russa Manta, eu não lembrava de como ela é radical, serio, morri de medo! Kkkkkkkkk  Mas não tem como ir ao Sea World e não ir nela!
Vejam o video que fizemos com a GoPro, que fique claro que é permitida o uso dela na atração, desde que a câmera esteja segura, o funcionário veio até checar se estava tudo ok!!
Depois de muita adrenalina seguimos para a atração que ainda não conhecíamos: Antarctica: Empire of the Penguim.
Gente, é incrível a capacidade que os parques têm de tornar real uma área temática, assim que entramos na "Antartica" a impressão que eu tinha era que eu estava no meio das geleiras!!
A atração é super bonitinha, primeiro entramos numa sala que conta um pouco a história dos pinguins, depois embarcamos numa espécie de balsa que transporta os visitantes para um cenário diferente, o mundo de gelo, e ao desembarcar, damos de cara com eles, os pinguins!!!
É o máximo vê-los assim de pertinho, ali, paradinhos em seu "habitat natural", mas o ambiente é extremamente frio, claro, não podia ser diferente, o mundo dos pinguins é gelado né??
Já na fila, do lado de fora, eles avisam que lá o ambiente é bem frio!!
Então, aviso, levem blusa, casaco, cachecol, enfim, se agasalhem ao máximo para poder aproveitar um tempinho lá dentro. Nós estávamos com blusas, eu já sabia sobre a temperatura dessa atração e levei blusa na mochila, mas acho que se estivéssemos com "mais roupas", teríamos ficado um pouco mais lá dentro!! Vou sugerir ao Sea World distribuírem casacos de neve para os visitantes!! 😉
Depois dos pinguins fomos ver as Arraias e os Golfinhos!!
O local das arraias Stingray Lagoon, permanece igual, é possível passar a mão nelas e alimentá-las com camarão que é vendido ali mesmo!!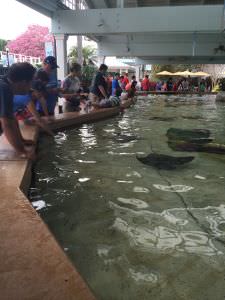 Na área dos golfinhos Dolphin Cove, as coisas mudaram um pouco, antigamente, ali mesmo, os visitantes compravam a comida (uma caixa com 3 ou 4 peixes) e era possível ficar bem perto dos Golfinhos e alimentá-los. Hoje em dia não pode mais dar comida a eles, paga-se U$ 15.00 por pessoa, e é como se fosse uma área VIP, pode passar a mão neles e ver algumas "gracinhas" que eles fazem! Mas quem não paga também consegue vê-los, porém não tão pertinho, mas acreditem, é super legal!
Depois fomos ver o show dos leões marinhos, Clyde and Seamore. Esse show mudou também, antigamente além dos leões marinhos, tinha como protagonista o pirata, agora a história toda é contada como se todos estivessem no High School, é super legal e lindo de ver os animais!!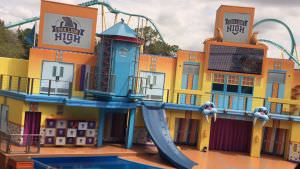 Logo depois disso fomos assistir o show do Mercy Me no Nautilus Theater. O teatro é grande e a plateia fica sentada. A banda fez duas apresentações, as 15:30hs (nós assistimos essa) e as 18:00hs, como tínhamos ingresso de mídia, nós ficamos super pertinho do palco, foi demais, o som deles é sensacional, a banda é maravilhosa, foi um momento incrível para estar com a família! Todos aqui em casa gostam muito deles!!
Saindo daqui fomos ver o show dos golfinhos: Blue Horizons. Eu acho que depois do show da Shamu, a apresentação que mais agrada a quem vai ao SeaWorld é esse. A apresentação conta com estrelas principais: os golfinhos, que fazem acrobacias e interagem com atores-pássaros, que ficam presos em cordas e dão um toque especial ao espetáculo. Eu percebi que o show mudou um pouco, posso estar errada, mas acho que o tempo que os golfinhos se apresentam na água diminuiu.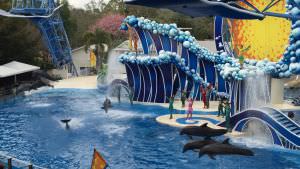 Para descansar ficamos um tempinho na área Shamu's Happy Harbor, que é destinada especialmente para as crianças, tem brinquedão, jatos de água que saem do chão para criançada se molhar, montanha russa da Shamu para os pequenos, essa área é ótima para aquele momento em que os pais querem relaxar enquanto as crianças brincam, tem mesas e cadeiras, bancos, e um espaço enorme para um lanchinho no meio da tarde!!
Após esse descanso fomos no Wild Artic, um simulador de helicóptero que balança e dá a sensação que estamos voando mesmo!! Muito legal também!!
Fomos na Kraken, e mais uma vez fiquei espantada. Como eu não lembrava que essa montanha russa era tão boa??? Fui 3 vezes, simplesmente sensacional!! Recomendo muito, na minha humilde opinião, a Kraken é muito mais legal que a Manta!!
E para finalizar, o show IMPERDÍVEL, One Ocean com a baleia Shamu, eu costumo dizer que ir ao Sea World e não ver a Shamu é o mesmo que visitar Paris e não conhecer a Torre Eifflel. A Shamu realiza diversas acrobacias, bate a calda e molha a plateia, a criançada adora!! Os primeiros assentos do teatro indicam que essa área é "soak zone" (zona molhada). Enfim, o show é lindo e emocionante!! Eu percebi que mudou um pouco também, os treinadores não entram mais na agua para um passeio com a baleia!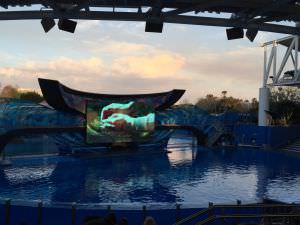 Consegui tirar somente essa foto, fiquei sem bateria no celular, mas o marido fez um "live" na página do O Mundo Disney no facebook, o video está disponível lá!! 🙂
Para concluir, o Sea World continua encantador, com atrações especiais, paisagem viva e exibições ao ar livre, tudo isso dá aos visitantes uma sensação de que o dia no parque será mais do que inesquecível!!
E as novidades do Sea World não param por aí, no verão desse ano será inaugurada a Mako, que será a mais alta, mais rápida e mais longa montanha russa de Orlando!!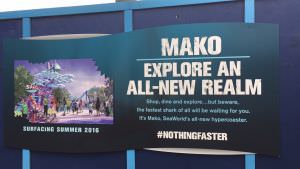 Estou contando os dias para conhecê-la!! 😉
Então é isso gente, espero que tenham gostado desse post, e quem for ao Sea World, acredite, seu dia será demais!!
Quero agradecer muito ao Sea World pelas cortesias dos ingressos, foi um dia muito especial para nós, obrigada de coração!!
Beijos a todos
Daniele