Hoje o post é para falar sobre a Mickey's Very Merry Christmas Party 2016. A linda festa de Natal da Disney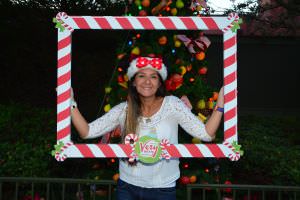 Essa festa era uma que faltava no " meu currículo" e acreditem, em menos de 1 semana fui duas vezes!! 🙂 Na primeira foi a convite da Walt Disney World para curtir com a família, e a segunda ida (a convite da Disney também) fez parte de um evento que durou 3 dias aonde foram apresentadas as novidades que a Disney preparou para as festas de final de ano.
Assim como para a festa de Halloween (tem post aqui contando tudo), na festa de Natal, é necessário ingresso adicional e nos dias em que acontece a festa, o Magic Kingdom fecha as 19hs e abre somente para a Mickey's Very Merry Christmas Party, a festa começa as 19hs, mas a partir das 16hs já é possível entrar no parque, e termina a meia noite.
Bom gente, se o Magic Kingdom já é lindo de morrer, imaginem decorado com o tema natalino??? Como se fosse possível o parque fica ainda mais maravilhoso. 🙂
E como é a festa???
Bom, tem o desfile de Natal, show de fogos especial de Natal, encontro com personagens raros (que dificilmente estão no parque disponíveis para fotos), show em frente o castelo, chocolate quente e cookies a noite toda (de graça). 🙂
Vale dizer que os visitantes que estão no parque no dia em que acontece a festa de Natal não poderão assistir o show de encerramento Wishes, ele é exibido apenas durante a festa! 🙂
Eis as datas da festa no mês de Dezembro: 1, 2, 4, 6, 8, 9, 11, 13, 15, 16, 18 e 22.
Vamos aos detalhes de tudo o que acontece durante a festa:
-O desfile se chama Mickey's Once Upon A Christmastime Parade, com duas exibições na noite, as 20:30hs e as 23:00hs. Papai Noel, duendes, renas, soldadinhos e outros personagens do Polo Norte se juntam a Mickey e os seus amigos. Anna, Elsa, Kristoff e Olaf, de "Frozen", também estão presentes.
-O show de fogos: Holiday Wishes – Celebrate the Spirit of the Season. A noite e a festa ficam ainda mais lindas quando são iluminadas com o espetacular show de fogos de artifício com temática natalino. Apenas uma exibição as 22:00hs.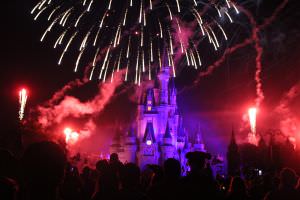 -Meet and Greet, oportunidade de encontro com alguns dos seus personagens favoritos da Disney vestidos para o Natal.
Na minha opinião, essa é a melhor parte! 🙂 Olha só que demais, Branca de Neve e o Príncipe??? Os 7 anões?? O Tio Patinhas??? Quando que temos a oportunidade de vê-los pelo parque???
Mas aviso, as filas são enormes, então, se programem para ver os seus personagens preferidos. Ah, não existe a possibilidade de fastpass, mas eu digo que vale a pena encarar a fila simmmmm! 😉
-Show em frente ao castelo e nesse ano com uma grande novidade: Mickey's Most Merriest Celebration, as 19:40hs, 21:25hs, 22:30hs e 12:00. Show em que Mickey e os seus amigos cantam e dançam músicas de natal modernas e, no Castelo da Cinderela, uma projeção mágica faz o encerramento com um belo "The End" cheio de neve. Esse show conta com a presença ilustre de Zé Carioca (esse show estará disponível para os visitantes regulares do parque entre 23 e 31 de dezembro).
-A Frozen Holiday Wish, as 20:15hs. A magia de "Frozen" encantará os visitantes quando Elsa transformar o Castelo da Cinderela em um palácio. Vale avisar que esse show acontece todos os dias (em outro horário) até o começo de Janeiro, não é um show exclusivo da festa de Natal, mas durante a festa ele é apresentado também.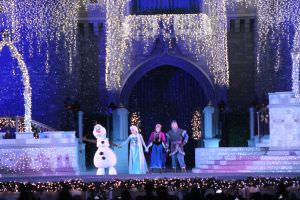 Importante dizer, assim que chegarem no parque, peguem o mapa da festa para terem todos os horários atualizados!! 🙂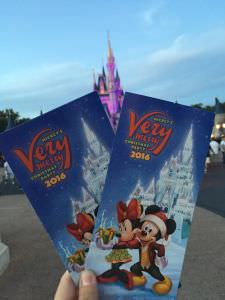 A festa ainda conta com:
-Neve mágica na Main Street.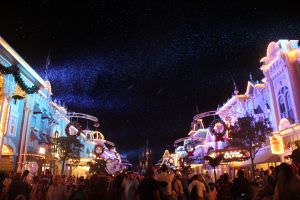 -Biscoitos de cortesia e muito chocolate quente.
Os pontos de distribuição dos cookies e chocolate quente são sinalizados com essa luminária.
Vale avisar que existem pontos que distribuem itens diferentes, o de cima, fica na Tomorrowland e tem cookie e chocolate quente.
Esse ponto fica na Fantasyland, em Storybook Circus e tem uma espécie de chá de maçã e biscoitos.
Vamos as conclusões:
Bom, eu amei amei e amei, nos divertimos muito, agradeço imensamente a Walt Disney World pela cortesia nos ingressos, foram duas noites maravilhosas, podem me convidar de novo! 😉
Super recomendo a Mickey's Very Merry Christmas Party, a linda Festa de Natal da Disney, mas aconselho o seguinte, quem for para a festa de Natal, faça apenas as atrações da festa de Natal, encontre os personagens raros, tire muitas fotos, assista a parada e de preferência, arrume um lugar para assistir na Main Street. Assista o Holiday Wishes (que só tem uma apresentação na noite), é sensacional, e esse shoe conta com fogos ao redor do Castelo, se der, fique um pouco mais pra trás da praça central em frente o castelo para assistir. Coma cookies e beba bastante chocolate quente. Entre no clima natalino, entre nas lojas e veja os itens exclusivos de natal, enfim, curta a noite, que eu tenho certeza de que será inesquecível!! E as atrações normais do parque??? Olha, se der tempo faça uma ou duas, mas foque nas coisas de Natal para aproveitar intensamente a festa!! 🙂
Bom, espero que tenham gostado do post e que tenha explicado tudo, qualquer duvida que tenham, me escrevam aqui!!
Beijos a até mais!!
Daniele