O evento International Food & Wine Festival 2017 chega mais cedo no Epcot esse ano, começando no dia 31 de agosto, o evento promete uma festa com muitos sabores em torno do World Showcase e se entendendo também no Future World.
Na última sexta feira dia 14 de julho a Disney promoveu um evento exclusivo para a mídia ir provar as delicias que estarão disponíveis no Festival!! Quanta coisa boa gente, experimentei todos os pratos salgados, todas as sobremesas e vinhos.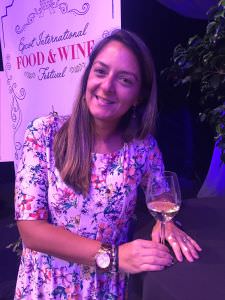 O Epcot International Food & Wine Festival contará com uma grande variedade de cozinhas e técnicas inovadoras de culinária de chefs de todo o mundo. O paraíso do aficionado da comida é repleto de pratos deliciosos, vinhos finos, cervejas artesanais, bebidas espirituosas e outras bebidas que certamente satisfazem todos os paladares, tudo isso em mais de 35 quiosques individuais, entre eles, Hawaí, Índia, Espanha, Tailândia, Nova Zelândia, Austrália, África, Bélgica, Grécia, Irlanda, Caribe, Patagônia, Escócia e muitos outros.
O Brasil já confirmou presença no Festival e trará: Escondidinho de carne, Feijoada, Pão de queijo e caipirinha!!
E não pensem que a comilança será só nos países, o Future World também terá 3 novos quiosques: Coastal Eats: sabores dos oceanos do mundo, juntamente com vinhos cultivados a partir da Costa do Pacífico; Flavors from Fire: trazendo pratos para os amantes da pimenta; e Active Eats: comidinhas cheias de ação!! ?
Outra novidade que chega é o quiosque The Cheese Studio, apresentado pela marca Boursin Cheese, entre as delicias, Macaroon de morango com pimenta e queijo, a combinação fica bem interessante, eu provei e achei gostoso.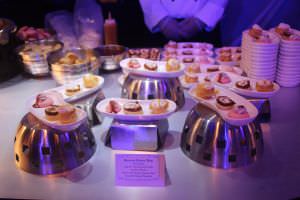 O The Chocolate Studio também volta ao Festival, é nesse lugar que fica o famoso chocolate feito no Nitrogênio, TOP demais!! Se bem que esse ano tem a sobremesa maravilhosa do Active Eats, um creme de avocado com calda de morango e bolo que é simplesmente divina!!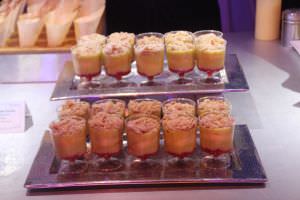 Outra novidade esse ano é Light Lab, com uma série de bebidas refrescantes borbulhantes e misturas espirituosas, a bebida TCC2, traz água tônica de baunilha e algodão doce, o resultado é bem interessante também!! Essa bebida é sem álcool e tenho certeza que será a alegria da criançada!!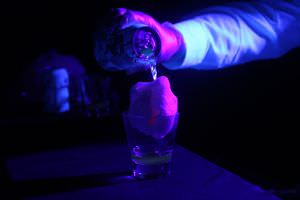 Mais uma novidade é The Almond Orchard apresentado pela marca Blue Diamond Almond Breeze que trará sobremesas saborosas e bebidas que acompanham um dos petiscos mais populares do mundo.
Os workshops também estarão de volta, os visitantes poderão aprender com alguns dos chefs mais famosos do mundo!! Ao longo de cada demonstração de 45 minutos, gourmets renomados transmitirão sabedoria de anos de cozinha, tudo enquanto preparam um prato especial e delicioso. Os participantes podem coletar dicas e truques para aprimorar suas habilidades, além de saborear os sabores requintados em cada apresentação.
Detalhes do evento
Localização: Festival Center, Chef's Showcase
De segunda a quinta-feira às 14h30; De sexta a domingo às 12h15 e às 14h30.
O valor é U$ 17 por hóspede, mais impostos.
Outra programação TOP que também volta para o Food & Wine é a : Eat, Drink and Ask Questions.
Os visitantes poderão começar o dia de uma forma muito deliciosa, em pequenos almoços rodeados de chefs famosos e outros especialistas da indústria enquanto aproveitam o prato favorito do convidado VIP, ouvirão dicas, truques e insights sobre o que torna sua seleção tão extraordinária. Além disso, essa experiência inclui uma demonstração de culinária, uma sessão de perguntas e respostas e um Espumante de brinde. Salud!
Detalhes gerais do evento
Festival Center, Show de Chef
Sextas e domingos ao longo do Festival
U$ 129 por hóspedes mais taxas.
Datas e Chefs em 2017:
3 de setembro – Shaun O'Neale
10 de setembro – Alex Guarnaschelli
15 de setembro – Stuart O'Keeffe
17 de setembro – Jet Tila
24 de setembro – Art Smith
29 de setembro – Graham Elliot
6 de outubro – Jamie Deen
8 de outubro – Geoffrey Zakarian
15 de outubro – Bryan Voltaggio
20 de outubro – Robert Irvine
22 de outubro – Robert Irvine
27 de outubro – Cat Cora
29 de outubro – Cat Cora
3 de novembro – Carla Hall
10 de novembro – Sarah Fioroni
12 de novembro – Buddy Valastro
Observe: cada evento tem uma opção de assento. A admissão do Epcot não está incluída no bilhete do evento. Todos os eventos estão sujeitos a alterações ou cancelamentos sem aviso prévio.
Durante todo o festival os visitantes poderão encontrar uma variedade de produtos de cozinha e entretenimento doméstico, juntamente com mercadorias de eventos especiais de edição limitada. as lojas e quiosques oferecem uma variedade de diversão com itens do Festival, incluindo um oficial Food & Wine Festivals Coast to Coast Cookbook.
Os produtos do Chef Figment são os mais fofos, com uma ampla seleção de produtos domésticos com o próprio dragão púrpura popular, incluindo o avental Figment, chapéu de chef e luva de forno!
Vou colocar abaixo as fotos dos pratos que eu provei:
Da Espanha – cone com um carne cortada bem fininha com queijo e azeitona regado a muito azeite, delicioso!!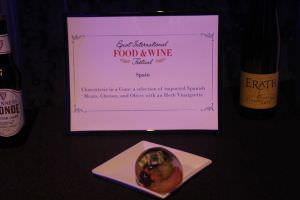 Do Hawai – batata em cubinhos com molho Teryaki, com cebola e maionese, estava super gostoso, quem gosta de pimenta vai amar!!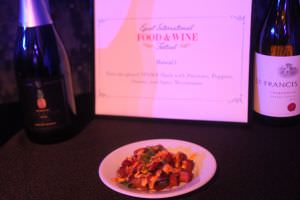 Flavors from Fire – carne desfiada e defumada com queijos e batata crocante, estava bem gostoso!!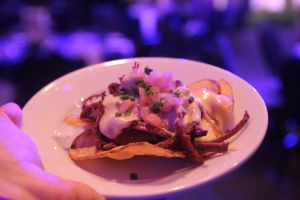 Da Índia – grão de bico com cenoura e arroz branco. Eu amo arroz branco por isso provei, mas achei um pouco picante!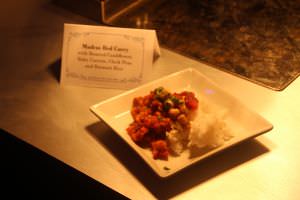 Coastal Eats – Escallops com feijão branco. Campeão de bilheteria, amo escallops e esse estava divino!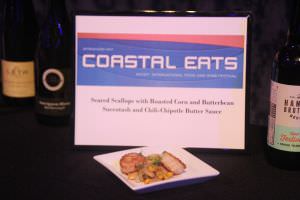 Da Espanha sobremesa – bolo com azeite de oliva doce e um creminho de limão, delicia!!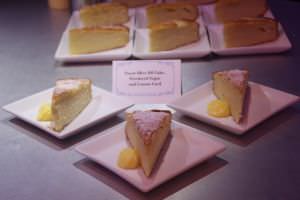 Vinho da Espanha, Godello. Amei amei e amei esse vinho e a minha sobremesa TOP da Active Eats.
Para encerrar…
O International Food & Wine Epcot fica no parque até dia 13 de novembro, os quiosques funcionam diariamente, as amostras de alimentos e bebidas exigem uma compra separada. As bebidas com álcool só serão vendidas aos visitantes maiores de 21 anos. Os pratos que possuem glúten serão identificados em cada menu.
Para participar do evento não é necessário ingresso adicional, basta o ingresso regular do parque.
Então é isso pessoal, preparem o  apetite para um delicioso passeio de sabores internacionais e iguarias domésticas!