Halloween na Disney.
Pela segunda vez nós fomos curtir o Halloween no Magic Kingdom, e esse ano fomos fantasiados!! 🙂
Eu nunca achei que faria isso, pois fiz e amei, coloquei minha super fantasia de Cinderela e lá fui eu feliz da vida!! Só queria ressaltar uma coisa, ir de princesa no Magic Kingdom era uma vontade minha, e simmmmm, eu realizei esse um sonho!! 🙂
Bom, vamos lá!!
Só para constar, já fiz um post aqui contando quando fui nessa festa pela primeira vez!! 🙂
Gente, o Halloween do Magic Kingdom é demais!!! Bem para a família mesmo, sem sustos ou coisas do gênero, por isso essa festa se chama: Mickey's Not So Scary Halloween Party! "Não tão assustador", as crianças adoram, elas vão fastasiadas, saem a caça do doces, brincam nas atrações que permanecem abertas durante o evento!
Muitas pessoas me perguntaram sobre as fantasias!! Simmm, pode ir fantasiado, alias, deve!! A Disney permite sim que adultos se fantasiem para a festa de Halloween 🙂 E acreditem, as pessoas capricham nas fantasias, é um barato!!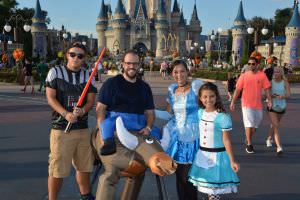 A festa começa ás 19hs, mas a partir das 16hs já pode entrar no parque.
Esclarecendo: Nos dias do evento de Halloween o Magic Kingdom "fecha" as 19, ou seja, os visitantes que estão no parque começam a sair nesse horário e os que vem para a festa estão chegando nesse horário. E não pense que fica tumulto, ou aquele entra e sai, de jeito nenhum, o pessoal arruma uma logística mara e no final dá tudo certo!!
Nós chegamos no parque por volta de 5hs da tarde, eu queria chegar de dia ainda para poder tirar muitas fotos de Cinderela!! 🙂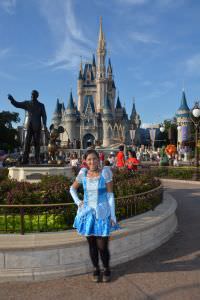 Assim que entramos já passamos por essa Minnie linda e já ganhamos a nossa sacolinha, cada um recebe uma. Nesse ano ela já tinha alguns doces dentro. Os pontos para "pegar" os doces só começam a funcionar as 7hs e eles estão indicados no mapa, super fácil de achar.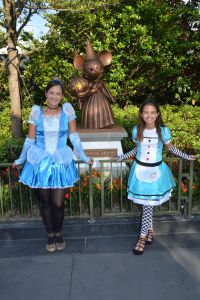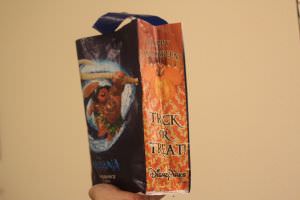 Importantíssimo não esquecer de pegar o mapa do evento, nele consta todos os horários do shows, das paradas e tudo o que acontece durante a noite.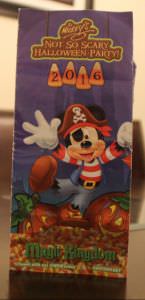 Vou contar um pouco sobre os shows:
Hocus Pocus Villain Spelltacular, com quatro apresentações, as 20:00hs, 21:15hs, 22:40hs e 0:00hs –  show com os vilões da Disney, super engraçado e quem comanda a festa é as irmãs Sanderson do filme Abracadabra. E para ficar ainda mais legal elas recebem a visitas dos vilões mais queridos da Disney, entre eles: Malévola, Rainha Má, Cruela, Jafar, Capitão Gancho.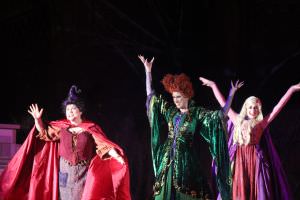 Mickey's "Boo-To-You" Halloween Parade, as 20:30hs e 23:15hs. Essa parada é simplesmente sensacional, com carros e personagens que só aparecem no Halloween. Imperdível, recomendo assistir a parada no segundo horário porque o parque está mais vazio. 🙂 DICA: posicionem-se uns 15 minutos antes do horário da parada para ver o Cavalheiro sem cabeça passar, ele passa bem antes da parada começar!! 🙂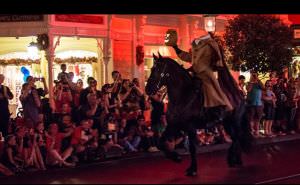 Celebrate The Magic as 22:00hs – show de projeção de imagens em frente o Castelo. Já se posicione para assistir o Celebrate The Magic e o Happy Hallowishes que é as 22:15hs. O Wishes Nighttime Spectacular, show de fogos tradicional do Magic Kingdom é transformado em Happy Hallowishes. Ele é maravilhoso e diferente do Wishes, o Hallowishes tem momentos de fogos 180 graus, ou seja, não é apenas na frente do Castelo, mas ao redor de quem assiste, lindo demais e só tem uma apresentação, então, se ligue e não perca!!
Special Disney Character Appearances – Isso é algo que eu quero falar e que eu acho uma das coisas mais legais do Halloween no Magic Kingdom.
A oportunidade de tirar fotos com personagens raros, que quase nunca aparecem no parque. 🙂 O meu plano era de tirar fotos com todos! 🙂
No mapa, os encontros com os personagens estão identificados com a cabeça do Mickey! 🙂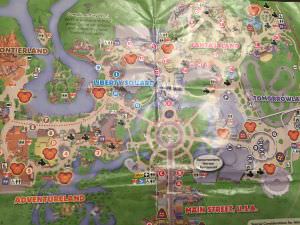 Eu fiquei enlouquecida quando vi o Jack e a Sally, eu nunca tinha visto!! 🙂
Quem estava por lá também: Os 7 anões, Cruela, mas eu não consegui tirar fotos com eles, buaaaaaaa, vou ter que voltar!! 🙂
Olhem como os personagens tradicionais do parque estão lindos vestidos para o Halloween. 🙂
Eu não aguento o Mickey gente, sério, muito amor por ele!!:)
Eu fiz vários snaps e recebi muitas perguntas sobre o que é mais legal fazer durante o evento de Halloween. Minha resposta foi:
Façam as atrações de Halloween, ou seja, vejam os shows e a parada, vá pegar os doces.
Vá encontrar os personagens, tire fotos nos pontos estratégicos. Se passar por um fotografo do Photopass, pare e tire fotos, o resultado dessas fotos é demais!!:)
Curta, se divirta, aprecie o parque, a decoração, o clima é diferente, as pessoas estão animadas com as suas fantasias, enfim, é uma festa linda e fofa, um momento muito diferente e muito gostoso!!:)
Ah, mais uma coisa, como a Disney é a Disney né, esse ano eles colocaram pontos estratégicos de doces para quem tem algum tipo de alergia, eu achei o máximo o cuidado e carinho! 🙂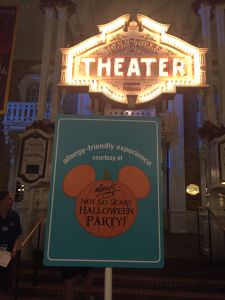 Bom, é isso gente, espero que tenham gostado e curtido comigo um pouquinho da festa de Halloween na Disney!!:)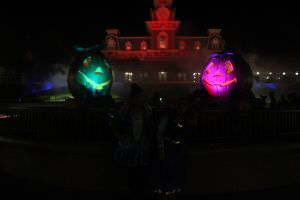 Quero deixar aqui também o meu grande agradecimento a Walt Disney World pela cortesia nos ingressos, valeu pessoal, foi uma noite memorável!! 🙂 Muito, muito obrigada!!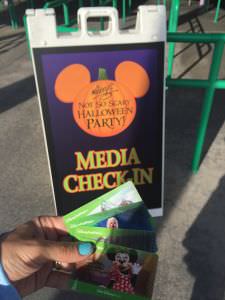 Beijos em todos.
Daniele