Food & Wine retorna ao Busch Gardens Tampa com música e sabores para todos os gostos!!! Esse que é o evento mais delicioso do Busch Gardens Tampa, chega a sua quarta edição. 🙂
Começando em março. o festival apresenta sabores para todos os paladares. Os visitantes podem degustar de pratos harmonizados com uma seleção de mais de 65 vinhos, 50 cervejas artesanais e coquetéis especiais, enquanto curtem shows musicais de grandes artistas. O evento acontece entre 3 de março e 29 de abril, todos os sábados e domingos, e está incluído no ingresso regular do parque.
Na última sexta feira nós tivemos o evento de mídia aonde pudemos experimentar várias delicias, eu adoro ir ao Busch Gardens e quando tem o Food & Wine então o parque fica ainda mais especial!! 🙂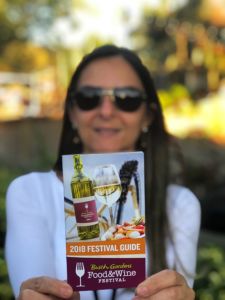 Nesse ano, o festival traz novos pratos que serão servidos em 13 estações gastronômicas, além de itens que fizeram sucesso nas edições passadas, como ceviche de manga e camarão e filé de carne bovina em um waffle de milho picante.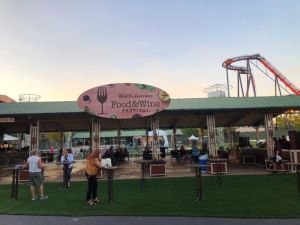 Na Savory Tavern, o prato principal é coxa de rã frita com fritada de bacon e milho, achei um pouco exótico, eu não provei porque não gosto dessas carnes diferentes.
Já na Artisan Eats a especialidade é o pato com fritas trufadas, eu não comi o pato, mas essas fritas trufadas são deliciosas!! 🙂
Na Comfort Kichen a opção mais pedida são os tostones com recheio de frango. Tortinhas de lagosta com alho-poró e queijo suíço e vol-au-vent de cogumelos são os destaques da Light Fare Canteen.
Na Chef's Plantation o menu inclui bolinho de salmão com aioli de limão e costelinhas ao estilo Coreano, esse bolinho de salmão é divino!!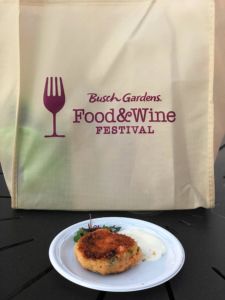 Para incrementar ainda mais a experiência gastronômica durante o Food & Wine, uma seleção especial de bourbons e tequilas estará disponível para os visitantes.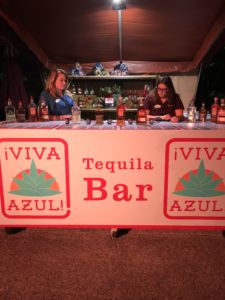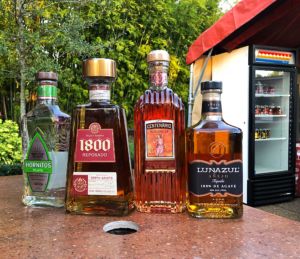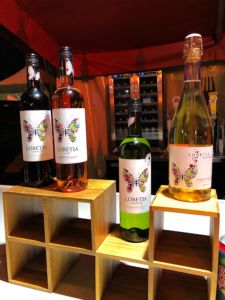 Outros pratos deliciosos que eu provei:
No Artisan Eats – Pupusas with Curtido & Grilled Shrimp.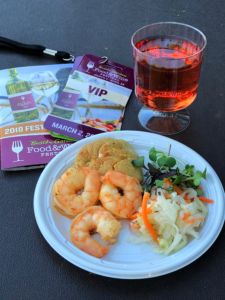 No Cooking With Coke – Baked Brie with Fanta Strawberry, MARAVILHOSO!!!
No Southern Station, a tradicional sobremesa que é uma delicia – Banana Foster Panna Cotta with Caramel Popcorn.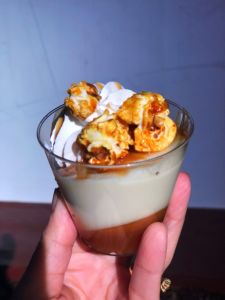 No Chef's Plantation – Short Rib and Brie Grilled Cheese, muito bom!! 🙂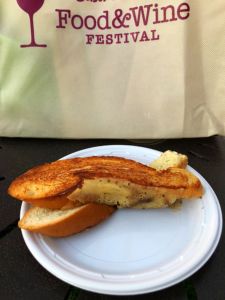 E pra fechar com chave de ouro, a sobremesa mais gostosa do festival (na minha opinião) no Gourmet Lodge – Grilled Cheesecake Sandwich with Raspberry! Super aprovada!! 😉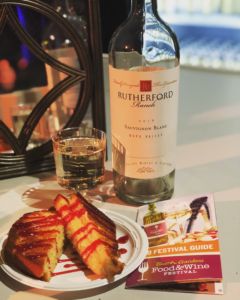 Essa sobremesa super combinou com o Sauvignon Blanc!! 🙂
O entretenimento musical durante o festival ficará por conta dos artistas: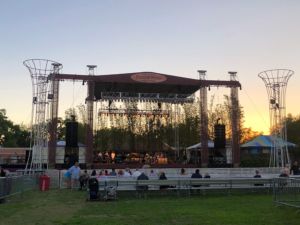 Sábado, 10 de março: The Fray
Doming, 11 de março: Southern Uprising Tour: A Southern Rock Revival with Travis Tritt, The Charlie Daniels Band, The Marshall Tucker Band, The Outlaws
Sábado, 17 de março: Olga Tañón
Domingo, 18 de março: Goo Goo Dolls
Sábado, 24 de março: Better Than Ezra & Tonic
Domingo, 25 de março: Michael Bolton
Sábado, 31 de março: Boyz II Men
Domingo, 1 de abril: Natalie Grant
Sábado, 7 de abril: Hank Williams, Jr
Domigo, 8 de abril: TLC
Sábado, 14 de abril: Bret Michaels
Domigo, 15 de abril: ainda não anunciado
Sábado, 21 de abril: Cole Swindell
Sábado, 28 de abril: Flo Rida
Domingo, 29 de abril: Kaleo & Bleachers
Lembrando que o Food & Wine está incluído no valor do ingresso regular do parque.
Para ter uma experiência ainda mais VIP, o visitante pode escolher entre duas opções de upgrade, que incluem assentos prioritários nos espetáculos musicais e cinco itens do menu do evento.
Além disso, os pacotes têm opções com 5, 10 e 12 itens para degustação.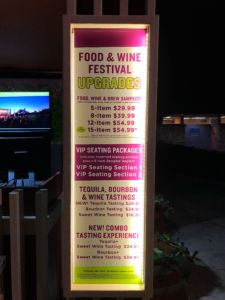 As comidas e bebidas não estão incluídas no ingresso regular do parque e devem ser adquiridas separadamente. Os visitantes precisam ter 21 anos no mínimo para consumir bebida alcóolica.
Para finalizar, eu super recomendo o Busch Gardens Food & Wine Festival, além de aproveitar as montanhas russas sensacionais do parque, os visitantes ainda podem aproveitar as delicias de comidinhas e bebidinhas e tudo isso regado a shows incriveis!! 🙂