Mais dois novos Navios da Disney???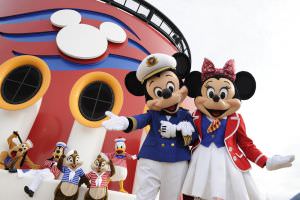 Oi Pessoal, tudo bem???
Vocês já fizeram algum cruzeiro??? Da Disney ou não??
Eu já fiz o da Royal Caribbean saindo de Tampa com destino ao Caribe (Cozumel e Costa Maia) e digo: Foi uma das experiências mais legais da minha vida!! 🙂
Agora, o da Disney ainda falta no meu currículo, mas farei em breve, se Deus quiser!! 😉
E para nossa alegria, a líder em cruzeiros para famílias vai aumentar a sua premiada frota com inovações originais, divertidas e notadamente Disney!!!
Eu recebi o release da Disney e estou compartilhando aqui com vocês, meu queridos leitores! 🙂
A The Walt Disney Company anunciou planos para construir dois navios para sua frota de cruzeiros, cada um deles trazendo entretenimento para toda a família e um serviço inigualável que só a Disney pode oferecer.
A empresa assinou um acordo de entendimento com o estaleiro Meyer Werft, na Alemanha. Segundo a programação, os novos navios serão concluídos em 2021 e 2023.
"Temos orgulho em poder oferecer férias inesquecíveis aos nossos hóspedes a cada dia, todos os dias, e a expansão da nossa frota Disney nos permitirá criar ainda mais memória mágicas para as famílias em alto-mar e nos incríveis destinos dos cruzeiros ao redor do mundo", disse Robert A. Iger, presidente e CEO da The Walt Disney Company.
Cada novo navio terá aproximadamente 135.000 toneladas brutas – um pouco maior do que os mais novos navios da Disney Cruise Line, o Disney Dream e o Disney Fantasy – e estão sendo planejados para ter cerca de 1.250 cabines. Enquanto os planos de design, nomes dos navios e itinerários ainda estão em desenvolvimento, a equipe de Walt Disney Imagineering já está sonhando com novas maneiras de criar as mais mágicas aventuras oceânicas do mundo.
Desde o primeiro cruzeiro, em 1998, a Disney Cruise Line tem proporcionado a mais completa experiência de férias para a família, combinando a magia Disney com a emoção de explorar diferentes partes do mundo. Os hóspedes entram abordo de transatlânticos lindos e majestosos para desfrutar  de espetáculos Disney, refeições requintadas, cabines espaçosas e bem equipadas e espaços públicos magníficos.
A empresa também tem sido líder em inovação e criatividade. Com o lançamento do Disney Dream e do Disney Fantasy, em 2011 e 2012, a empresa trouxe várias novidades para a indústria, incluindo uma montanha-russa de água em alto-mar (Aquaduck) e vigias virtuais nas cabines internas (Magical Portholes) que oferecem vistas do mar em tempo real, bem como aparições de personagens animados da Disney.
Os planos para a ampliação da Disney Cruise Line chegam durante um período de crescimento e inovação importante para as propriedades Disney em todo o mundo.
"A expansão da Disney Cruise Line aumenta ainda mais o nosso entusiasmo com o crescimento, sem precedentes, que vem ocorrendo em todos os nossos destinos de férias: novas experiências Star Wars chegando no Walt Disney World e Disneyland, o 25º aniversário da Disneyland Paris e a inauguração do nosso mais novo parque, Shanghai Disney Resort", disse Bob Chapek, presidente da Walt Disney Parks and Resorts.
Sobre a Disney Cruise Line
A Disney Cruise Line foi criada em 1998 como líder na indústria de cruzeiros e continua a fornecer um ambiente onde as famílias podem se reconectar, os adultos podem recarregar as energias e as crianças mergulham em mundos de fantasia que só a Disney pode criar. A Disney Cruise Line recebeu mais de 250 prêmios importantes da indústria de viagens por excelência em entretenimento, restaurantes, atividades juvenis, instalações de spa e serviço ao cliente. Para saber mais sobre a Disney Cruise Line ou para reservar um período de férias, os hóspedes podem entrar em contato com seu agente de viagens, visitar disneycruise.com ou ligar para a Disney Cruise Line no 888-DCL-2500.
E aí, vamos nos encontrar em algum cruzeiro no Navios da Disney??? Que sonho!!! 🙂
Beijos a todos
Daniele