O Busch Gardens Food and Wine Festival acontece aos sábados e domingos a partir de hoje, dia 4 de março e fica até o dia 30 de abril!
Ontem, sexta feira dia 03, eu estive lá no Busch Gardens participando do evento de mídia e pude provar varias delicias. 🙂
Um mundo de sabores e diversão aguarda os visitantes durante a terceira edição do evento anual Food & Wine Festival, no Busch Gardens Tampa Bay, na Flórida.
O evento neste ano ganhou mais dias e acontecerá durante nove semanas repleto de entretenimento de qualidade e alta gastronomia. Vale ressaltar que o evento está incluído no ingresso regular do parque, porem as comidinhas e bebidinhas são pagas a parte.
O festival apresenta pratos clássicos e também alguns destaques, como taco de carne de pato, ravióli de lagosta, mac & cheese com bacon, barriga de porco com açúcar mascavo, panna cotta de banana.
São 30 quiosques ou estações de comidas e bebidas distribuídas pelo parque. Mais de 60 tipos de vinhos e 75 diferentes cervejas artesanais estarão no Busch Gardens durante o Festival!! 🙂
Os pratos e bebidas não estão incluídos no ingresso, os pratos custam em média U$ 5.00, mas é possível comprar o "Festival Food Samplers", como se fosse um pacote com as comidas e bebidas, na minha opinião compensa muito, vejam os valores:
5 item Sampler, que permite escolher 5 itens, entre comidas e bebidas, custa U$ 29.99 mais taxas.
8 item Sampler, que permite escolher 8  itens, entre bebidas e comidas, custa U$ 37.99 mais taxas.
12 item Sampler, que permite escolher 12 itens, entre bebidas e comidas, custa U$ 54.99 mais taxas.
Vou colocar as fotos abaixo de tudo o que eu provei:
Pulled Pork Slider, sanduiche com carne de porco (pernil).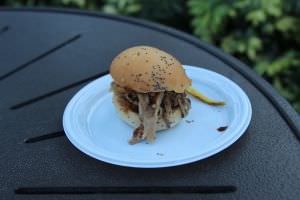 Grilled Lamb Chops, eu não provei porque eu não como carne de cordeiro, mas meu marido provou e adorou. O outro prato é Pan-Seared Scallops, simplesmente uma delicia. 🙂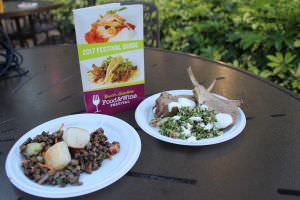 Bacon Mac & Cheese, delicioso, eu amei, e a cerveja é a IPA Lagunitas, eu não tomo cerveja, mas maridão aqui pediu e gostou muito.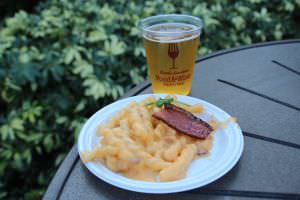 Duck Fat Truffle Fries, eu adorei também, esse molho é delicioso!!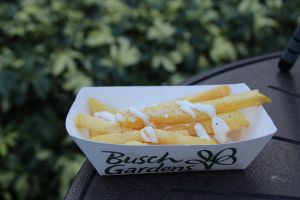 Tuna Poke Wakame Salad with Black Sesame Seeds, eu não curti muito porque achei um pouco picante, mas meu marido gostou muito!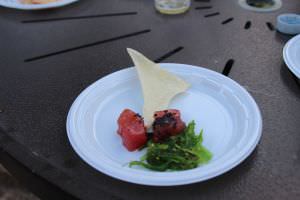 Mango Shrimp Ceviche, delicioso!!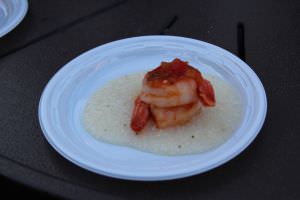 Lobster Tart with Spring Asparagus, hummmmm, um dos meus pratos preferidos!!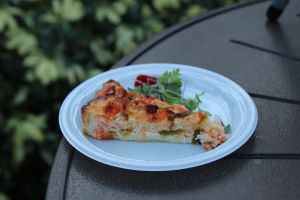 Key Lime Berry Parfait Mousse, essa sobremesa estava divina, comi umas 3 eu acho!! kkkkkkkk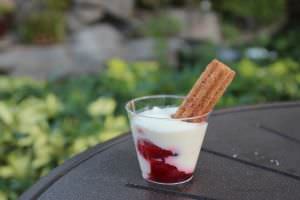 Olhem que combinação mara, a sobremesa delicia com vinho White Blend. 😉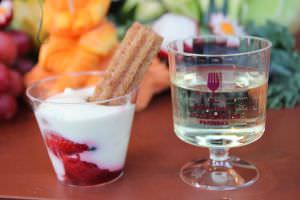 Para finalizar, minha combinação preferida!!! 🙂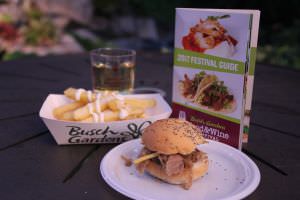 Os visitantes podem levar para casa a garrada do vinho que mais gostaram!! 😉 Elas estão a venda nos quiosques também.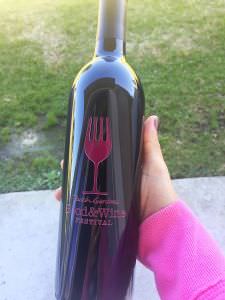 Além de comida e bebida, o Busch Gardens Food and Wine trará muita música.
A arena Gwazi abre ao meio dia com shows que começam às 7 pm.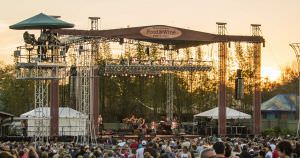 Os artistas que se apresentarão em 2017 são:
Sábado, 4 de março: Daughtry
Domingo, 5 de março: Andy Grammer
Sábado, 11 de março:Goo Goo Dolls
Domingo, 12 de março: Kool & The Gang
Sábado, 18 de março: Young the Giant
Domingo, 19 de março: Jason Isbell & John Hiatt Trio
Sábado, 25 de março: Os finalistas do The Voice Craig Wayne Boyd & Adam Wakefield
Domingo, 26 de março: El Gran Combo
Sábado, 1 de abril: DNCE
Domingo, 2 de abril: Walk Off The Earth
Sábado, 8 de abril: Hunter Hayes
Domingo, 9 de abril: Daya & Matt Nathanson
Sábado, 15 de abril: The Band Perry
Domingo, 16 de abril: Newsboys
Sábado, 22 de abril: Gilberto Santa Rosa
Domingo, 23 de abril: Lynyrd Skynyrd
Sábado, 29 de abril: Bachata Heightz, Justin Quiles & Milly Quezada
Domingo, 30 de abril: Tributo as bandas: Jimmy Buffet, Queen, Bon Jovi e Prince.
Para finalizar, eu adorei ter participado e provar as delicias, a organização do evento e a escolha do cardápio estão ótimos. O Busch Gardens Food and Wine Festival é um evento que pode ser para família toda, com muita diversão, comida e música de excelente qualidade, recomendo!!!
Agradeço muito ao Busch Gardens pelo convite, foi uma noite incrível!! 🙂